4-in-1
Starter Kit
97,00
€ 1,50 per refill
Binnen 24 uur
verzonden
Product informatie

Ready for a year!

With ZO, cleaning is even more hygienic. Think about it, when you rinse a cloth in a bucket of soapy water, the water becomes dirtier and the cleaning solution loses its strength. Plus, when you use the rinsed cloth on another surface, you're actually transferring dirt. That can be unhygienic. The simplest solution is to have a ZO sprayer in every room. With the ZO 4-in-1 starter kit, you'll have the right sprayer for every area in your home.

You mix the cleaners yourself with water in the stylish sprayers that are meant to be displayed in each room, rather than hidden away. This saves unnecessary transport of water, and you'll clean more frequently without even realizing it. The home collection should last you about a year.

Geschikt voor

Voor elke ruimte Als je overal in huis een sprayer zet, maak je veel sneller even schoon. Het ZO 4-in-1 startpakket heeft voor elke ruimte een speciale reiniger. Bevat alle vier de ZO reinigers: alles schoon, sanitair schoon, keuken schoon en glas schoon. Met ZO alles schoon maak je houten, metalen en kunststof oppervlakken in huis snel én hygiënisch schoon. ZO sanitair schoon is er speciaal voor de badkamer en de wc. Deze milieuvriendelijke sanitair reiniger verwijdert kalk en zeeprestjes, voorkomt kalkaanslag.

Gezond eten begint met een schone keuken. Met ZO keuken schoon haal je vuil en vet van het aanrecht, de kookplaat en de vloer.

Op een schoon beeldscherm je Instagram checken, in een stralende spiegel je make-up bijwerken. Je ziet het goed, met ZO glas schoon worden glas en ruiten streeploos schoon.

Geur

100% natuurlijke parfums voor een fris en schoon resultaat. ZO alles schoon 100% natuurlijke sinaasappelgeur. ZO sanitair schoon de geur van eucalyptus en rozemarijn. ZO keuken schoon frisse natuurlijke citroengeur. ZO glas schoon is geurloos, voor een streeploos resultaat. 

Ingrediënten

We gebruiken alleen 100% natuurlijke en vegan ingrediënten: ZO alles schoon aqua (water),Coco-glucoside, Capryloyl/Caproyl/methyl glucamide, Coco-Betaïne, Citric acid (citroenzuur), Parfum, Limonene
ZO sanitair schoon Aqua (water), Coco-glucoside, Lactic acid (melkzuur), Parfum, Limonene, linalool. ZO keuken schoon Aqua (water), Coco-glucoside, Coco-Betaïne, Tetrasodium Glutamate diacetate,  Sodium Carbonate (soda), Sodium Lauryl Sulfate, Parfum bevat limonene. ZO glas schoon Aqua (water),Coco-glucoside, Capryloyl/caproyl/methyl glucamide, Coco-betaïne, Citric acid (citroenzuur).
30-day return policy

Shop now Pay in 30 days with
Dit krijg je
100% natuurlijke reinigers voor een schoon huis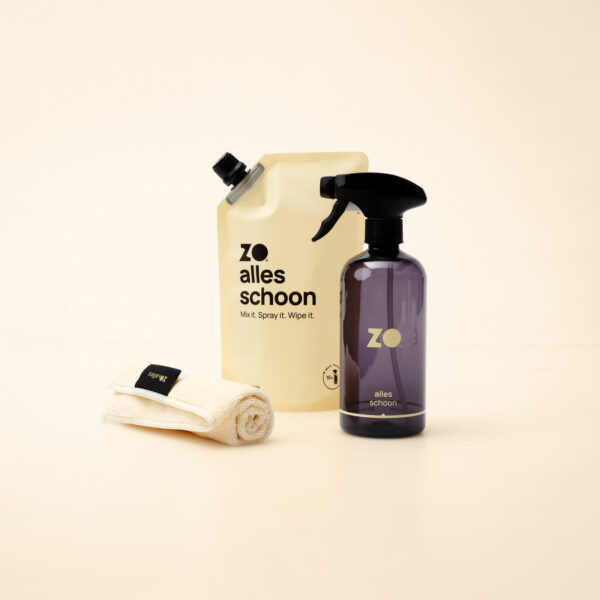 alles schoon
Voor alle oppervlakken, buiten de badkamer en keuken om
10 navullingen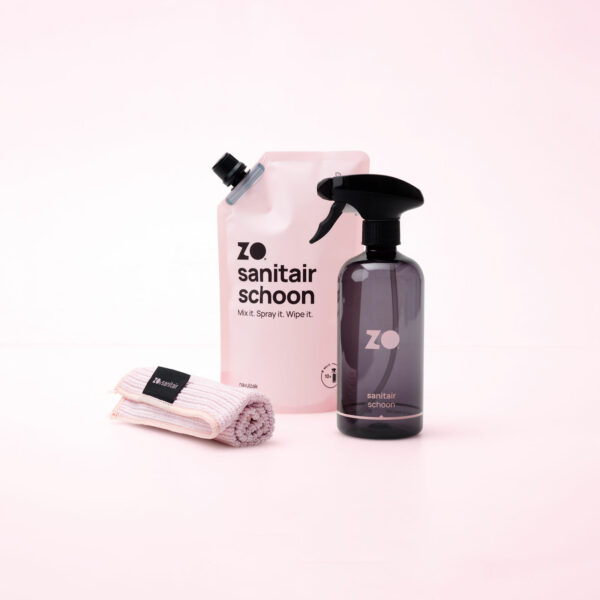 sanitair schoon
Ontkalker voor badkamer en toilet
10 navullingen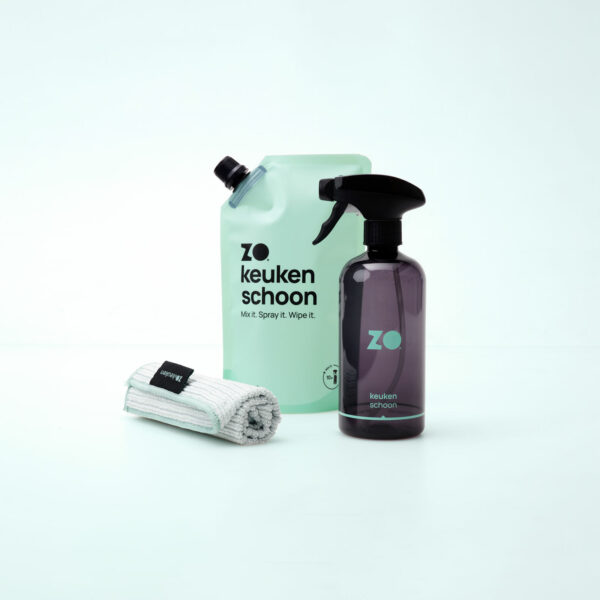 keuken schoon
Krachtige ontvetter, geschikt voor iedere keuken
10 navullingen
glas schoon
Voor streeploze ramen en spiegels
10 navullingen